Junior Golf
Junior Golf Mission Statement
Our mission is for our students to be the leaders of Junior Golf in the Carolinas by educating them in all facets of the game in a fun and encouraging environment, honoring our core values, and growing the game one junior at a time.
Our program utilizes U.S. Kids Golf player pathway teaching levels 1-5. These levels establish the fundamentals to create a lifetime of enjoyment and understanding of the game. Each level is completed by passing a skills test to ensure that the student is ready to move on.
---
Junior Golf Interclub Team 2019
Our Junior Interclub Team captured the 2019 Lake Norman Junior Interclub Cup! They are now 8 time Champions. Congratulations!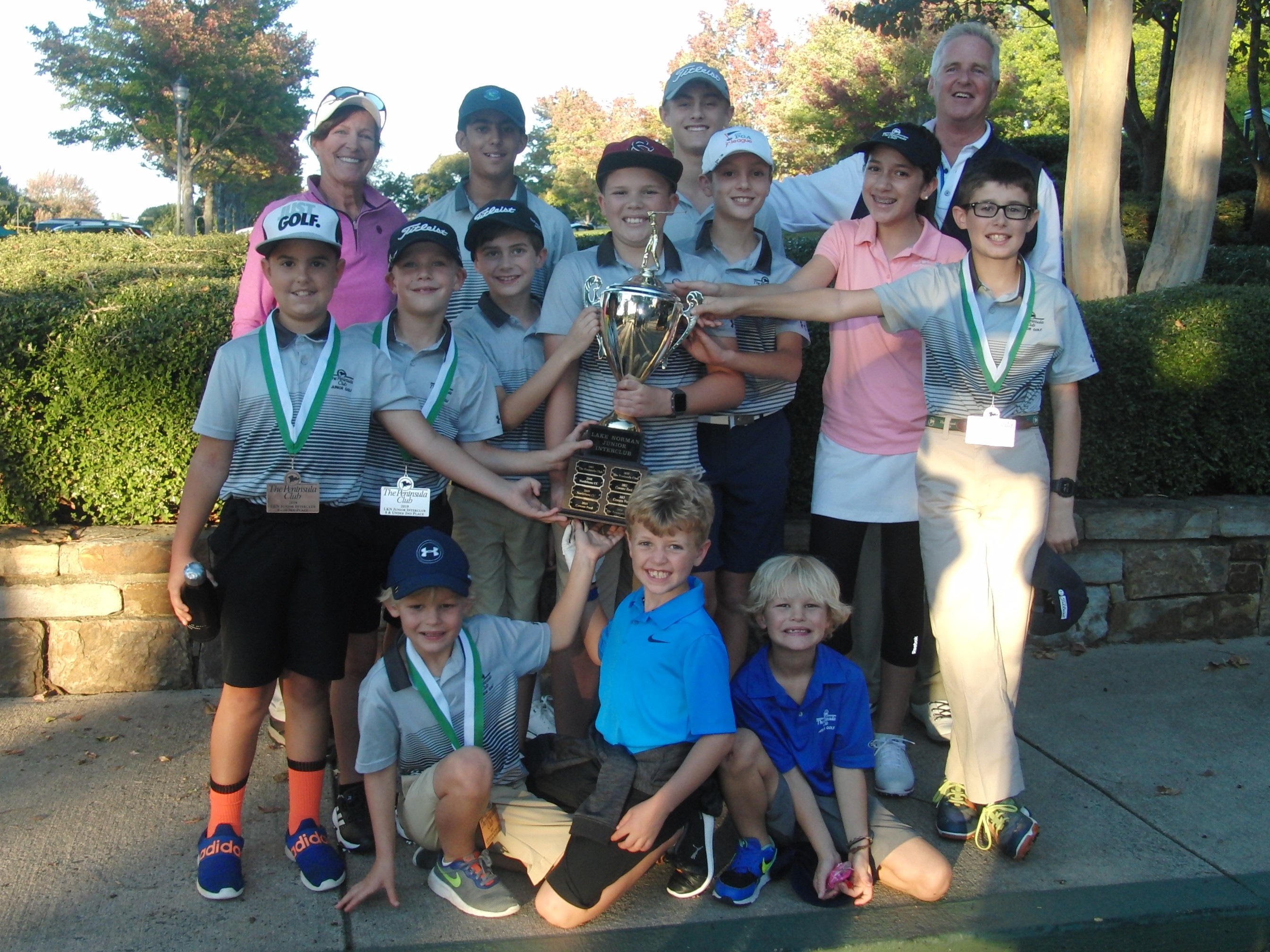 Summer Junior Golf Camp
These age specific, fun-filled camps are designed to develop beginner, intermediate or advanced golf skills by using a variety of teaching aids. Etiquette and good sportsmanship are emphasized in a fun and creative learning atmosphere.
Junior Golf Association
The Junior Golf Association is committed to increasing the enjoyment and participation of junior golfing members. There are elected officers including a President, Vice President, Secretary, Treasurer and a Playday Chairman.
Junior Golf Interclub
The Peninsula Club has built a strong Junior Interclub Golf Program and a valuable part of this junior program is the Junior Interclub Team. The Junior Interclub Team program offers juniors an opportunity to compete with other children their age. The Interclub Team has four age groups: 8 and under, 9-11, 12-14 and 15-17. Throughout the year, 9-hole stroke-play matches are arranged with local country clubs, with prizes for the top 3 golfers in each age group.
Afternoon Golf Clinics
Afternoon clinics are offered throughout the year for the young golfers. All skill levels are welcome. The forty-five minute sessions are a perfect mix of fun and instruction for the kids. Many aspects of the game, including short game techniques and full swing fundamentals are covered. The juniors often get time on the course during the clinics. Rules and etiquette are reviewed often and good sportsmanship is encouraged.